Reading Time:
4
minutes
A podcast is a digital audio file one can download or listen to over the internet. Podcasts are typically available as a series of prerecorded talk-radio shows that users can get on their computers or mobile devices.
There is no prescribed format, length or style for a podcast. They may cover a range of subject areas, but an episode often focuses on one topic or story. Some podcasters read from a script, while others improvise.
Musicians and bloggers were early adopters of podcasts. Many podcasts are free to download and listen to. Some podcasts are associated with websites to provide additional resources and community forums for fans.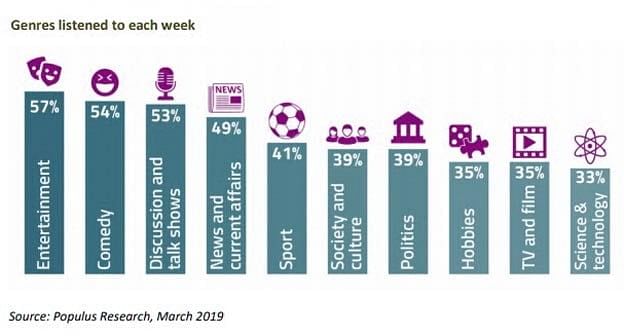 A podcast can have many purposes, but the main one is to entertain its audience. Podcast listeners might have one of several reasons to subscribe to a podcast, such as:
Hear updates and breakdowns of current events.
Learn about a new topic or industry.
Laugh at cohosts' riffing and jokes.
Listen in on interviews with popular or famous guests.
Experience an audio drama or narrative storytelling.
Types of Podcasts
The vast majority of podcasts can be broken down into one of four formats:
Conversational
Narrative nonfiction
Scripted fiction
Repurposed content
Conversational Podcasts
The most common podcast format is the conversational one. These are generally the most informal style, with anywhere from solo hosts to a roundtable discussion. Many of these shows are interview podcasts, which are discussions between one or more hosts and their guests, usually diving deep into the guests' personal history or expert knowledge on a topic.
Narrative Nonfiction
Another structure that fits podcasting well is long-form storytelling. Narrative nonfiction covers anything that covers a true event or topic in a narrative style.
Scripted Fiction
When most people think of fictional entertainment, they think of TV or movies—but scripted podcasts are growing in popularity as well.
Repurposed Content
Many content creators, from brands to bloggers to TV shows, repackage their content into podcasts.
Podcast Sample Script
Opening: A quick Musical Jingle
Introduction
•You're listening to the Govt. Women's College podcast and this is episode 1.
I'm Devika and I'm joined today by Jyothika from the History Department and Adheena from the Music Department.
•Today we'll talk about some interesting information from history, and music facts and we'll have some fun with English.
Interlude: Musical effect (playing the veena)
Topic 1: First, here's Jyothika from the history department.
Segment / Topic 1
Hello all, This is Jyothika, I have some historical facts to share:
*The world's most successful pirate in history was a lady: Named Ching Shih, she was a prostitute in China. This was until the commander of the red flag fleet bought and married her. Her husband considered her his equal and she became an active pirate commander in the fleet.
*In Ancient Asia, death by elephants was a popular form of execution: As elephants are very intelligent and easy to be trained, it proved easy to train them as executioners and torturers. In some parts of Asia, this method of execution was still popular up to the late 19th century.
*Turkeys were once worshipped as Gods: The Mayan people believed Turkeys were the vessels of the Gods and honoured them with worship.
Thank you
Interlude: Musical effect (playing the violin)
Segment / Topic 2
Hello all, This is Adheena, I have some music facts to share:
*Indian music takes many forms: classical, folk, and pop music. India has been blessed with several gifted musicians, who have mesmerized listeners from around the globe with their art. Let's take a look at three Indian musicians you should add to your playlist.
*Ustad Bismillah Khan -A spectacular shehnai player, Khan was a musician who was able to grasp the essence of Indian culture through his art.
*Pandit Ravi Shankar -Known for his invaluable contribution to Hindustani classical music, Pandit Ravi Shankar was one of the best-known players of the sitar.
* Hariprasad Chaurasia -A legendary Indian flautist and counted among the greatest masters of the north Indian bamboo flute, Hariprasad Chaurasia is a Padma Shree and a Padma Vibushan recipient.
Thank you.
Interlude: Musical effect (playing the drums)
Segment / Topic 3
Thank you, Jyothika and Adheena for the interesting information on history and music. Now it's time for some fun with English…
Qn. What do you call a sleeping bull?
Ans: A bull-dozer
Qn. What comes down but never goes up?
Ans: Rain
Qn. What can fly but has no wings?
Ans: Time
Closing Remarks
Thanks for listening to the Govt. Women's College podcast. Stay tuned for our next exciting episode!
Closing Music
Vodcast
A video podcast -vodcast -is an emerging format for podcasts. Audio is still the main medium for podcasts, but many podcasters are adding video elements to appeal to wider audiences and make their content even more engaging.